O złamaniu bariery 3 godzin zaczęłam myśleć już pod koniec sezonu 2015. Wtedy też legitymowałam się czasem 3 godz. 6 min. 44 sek., a metę Maratonu Warszawskiego przekroczyłam jako 11 kobieta! Sukces podsycił mój apetyt, zwłaszcza że sam bieg wspominałam bardzo pozytywnie. Czułam się świetnie, nabrałam wiatru w żagle i wiary we własne możliwości. Odnotowałam fantastyczny progres i złapałam bakcyla na więcej!
Taktyka wydawała się banalnie prosta, od grudnia ruszyły kolejne przygotowania do maratonu. Ja wiedziałam z czym to się je i nie bałam się ciężkiej pracy. Stopniowo zwiększaliśmy objętość, wprowadzaliśmy nowe akcenty i wszystko wskazywało na to, że forma idzie w dobrym kierunku.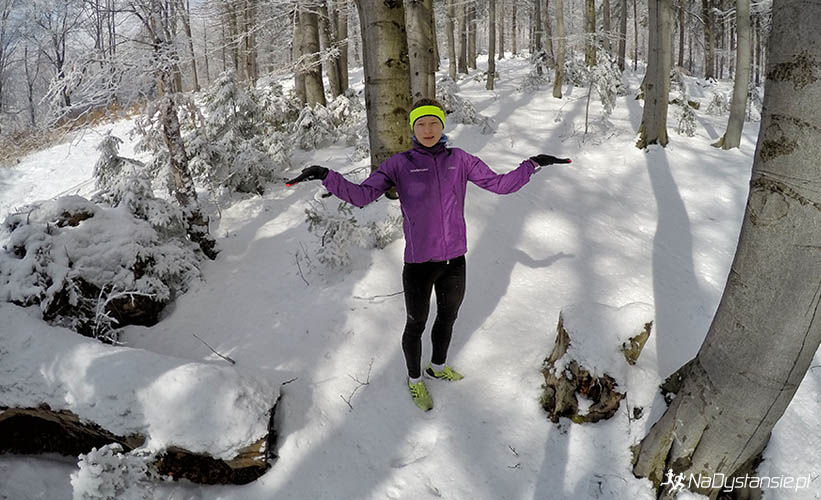 Pracowałam jak mrówka, cegiełka do cegiełki, nie odpuściłam żadnego treningu. Stawałam na rzęsach, żeby wykonać każdą jednostkę treningową. Wtedy też zdecydowaliśmy się na kolejny obóz, tym razem padło na Szklarską. Na obozie niemal codziennie realizowaliśmy po dwa treningi, a ja nagle z dnia na dzień czułam się coraz bardziej zmęczona. Niby normalne zjawisko, dlatego zupełnie się tym nie martwiłam, choć treningi nie wychodziły mi tak jakbym chciała. Do tego zbagatelizowałam ból w lewej nodze i walczyłam dalej.
Po powrocie do Warszawy trochę się rozsypałam, na kilka dni trzeba było przerwać przygotowania ze względu na przeziębienie. Po samym obozie trudno było mi wskoczyć na wyższe obroty, wszyscy mnie pocieszali, że po zejściu z gór organizm potrzebuje czasu. Tyle, że ja niemal do samego maratonu każdy trening rzeźbiłam jak tylko mogłam, a i tak biegałam poniżej oczekiwań. Pamiętam dokładnie, kiedy biegałam na tartanie odcinki 2 lub 3 km i ledwo byłam wstanie utrzymać tempo 4:10/km. Wszystko szło nie tak jak powinno, z perspektywy czasu wiem, że w tym okresie noga zupełnie nie podawała.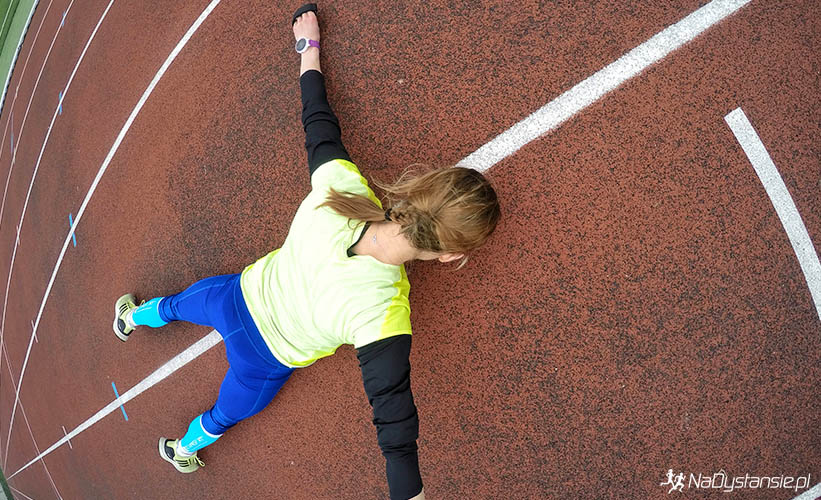 Na tydzień przed Orlen Warsaw Marathon w 2016 roku, realizowałam tylko delikatne rozruchy. Samopoczucie miałam delikatnie mówiąc średnie, a marzenia o złamaniu 3 godzin w maratonie już dawno porzuciłam. Najtrudniejsze były chyba oczekiwania innych, bo ja niewiele narzekałam a nawet jeśli mi się zdarzyło, to wszyscy traktowali moje obawy jako kokieterię.
Stojąc na linii startu, nie potrafiłam ocenić swoich możliwość – co więcej, nawet trener nie wiedział jak rozpisać mi międzyczasy. Trudno było celować w konkretny wynik, a ja brałam nawet pod uwagę zejście z trasy, jeśli kontuzja zacznie mi mocno doskwierać. O samym biegu możecie przeczytać TU. W mojej ocenie, cudem ugrałam w tym maratonie aż minutę do nowej życiówki! Na mecie zameldowałam się z czasem 3 godz. 5 min. 45 sek.!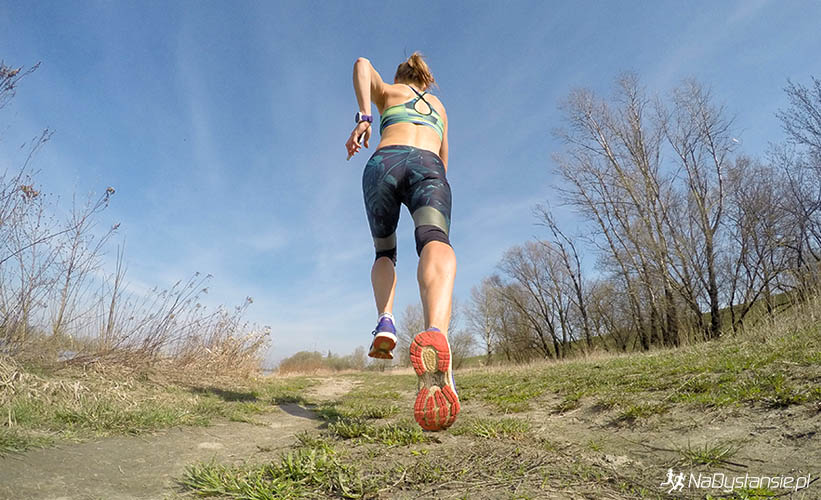 Ten okres dużo mnie nauczył, ale niechętnie wracam myślami do wspomnień z kalendarza: luty – kwiecień 2016.
Potem przyszedł czas KONTUZJI. Treningi biegowe zawiesiłam na ok. 4 miesiące. To nie był łatwy okres, trudno było mi znaleźć sobie miejsce, a w bieganiu chwilowo nie było dla mnie miejsca. I wiecie co?Teraz wiem, że wróciłam silniejsza!
W grudniu, oficjalnie wspólnie z Adim rozpoczęliśmy przygotowania do sezonu 2017. Tym razem do treningów podeszłam bardzo asekuracyjnie. Bez napinki, bez nabijania dodatkowych kilometrów. Do tego 3x w tygodniu chodziłam na basen, stwierdziłam, że w tym kierunku chcę się rozwijać. Ba! nawet kilka razy wskoczyłam na trenażer! Co ważne nie myślałam o udziale w maratonie. Serio. Cały czas powtarzałam, że jeśli zdrowie pozwoli to może wezmę to pod uwagę. Na pewno nie myślałam o złamaniu 3 godzin, jeszcze nie wtedy.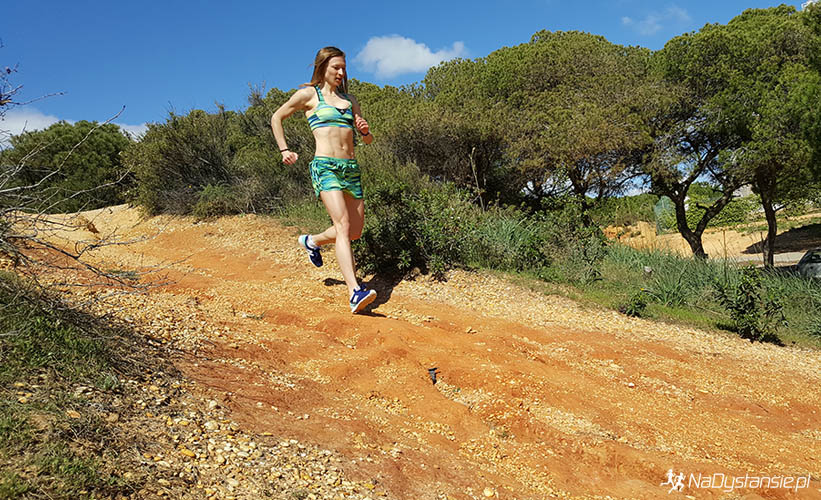 Biegałam, pływałam, czasami świrowałam na rowerze – bo trudno było nazwać moje kręcenie jakimś konkretnym treningiem. Z czasem wzmożone treningi biegowe wyparły rower, ale basen ciągle był! Potem pojawiła się koncepcja wyjazdu do Portugalii, którą początkowo potraktowałam jak przygodę. Na zasadzie co będzie to będzie. Okazało się, że było coraz lepiej i lepiej.
Treningowo zrobiłam skok milowy do przodu, nogi kręciły się jak nigdy dotąd. Na obozie dałam z sobie wszystko, dzielnie realizowałam każdą jednostkę. Plan treningowy od początku ułożony był pod maraton, aż w końcu wyciągnęłam z szuflady moją koncepcję "złamać 3 godz. w maratonie". Nawet na Orlen nieśmiało zapisałam się dopiero po powrocie do Polski, czyli na kilka tygodni przed startem.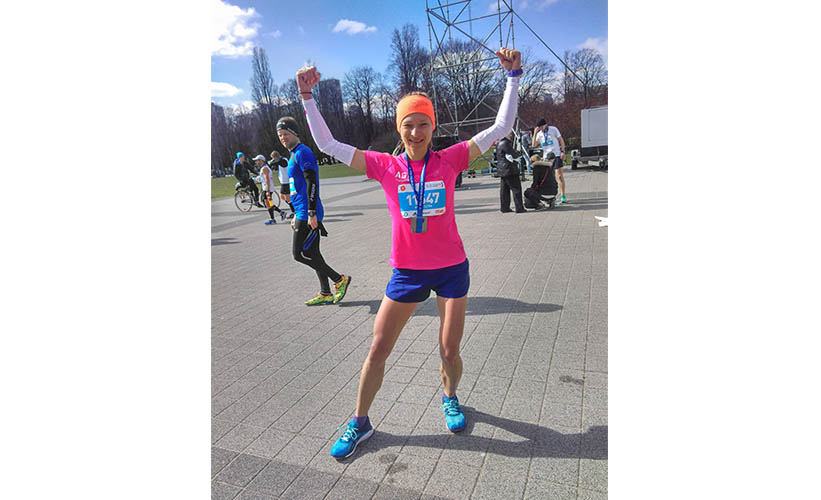 Najbardziej bałam się, że znów coś pójdzie nie tak. Adi wiedział, że oficjalnie nie mówimy o moim marzeniu, oczywiście do czasu, bo po Półmaratonie Warszawskim wszystko stało się jasne! Dla mnie też, wynik 1:24:36 utwierdził mnie w przekonaniu, że to naprawdę ma sens.
"Aga celuje w maratonie na 2:59:59!"
Wszystko postawiłam na jedną kartę, MARATON! Pierwszy raz poczułam, że to mój czas i że muszę go dobrze wykorzystać! Nie mówię, że było łatwo, ale naprawdę czułam się mocna. Odzyskałam mój swobodny i dynamiczny krok biegowy. Znów czułam się komfortowo podczas biegania.
Pobudki o 6:00 rano, bieganie późnym wieczorem i podporządkowanie weekendów pod plan treningowy – tak wyglądały przygotowania do maratonu. Grunt, że miałam pozytywne nastawienie. Coś się we mnie zmieniło, po prostu czułam się znacznie silniejsza niż rok temu!
Treningi wychodziły bez zarzutu, ale to nie oznacza że byłam pewna osiągnięcia celu. Wierzyłam w siebie ale zdawałam sobie sprawę, że maraton jest nieprzewidywalny. Na wynik składa się masę elementów i choć czułam, że jestem gotowa podjąć próbę to jest tak wiele zmiennych, które już nie raz pokrzyżowały mi szyki.
Chyba moim jedynym zmartwieniem były kłopoty żołądkowe na kilkanaście dni przed startem. W tygodniu przedświątecznym opadłam zupełnie z sił, treningi realizowałam, ale mocy nie czułam w ogóle. Zaczęło robić się nerwowo, dopiero na 6 dni przed maratonem dolegliwości jelitowe zupełnie odpuściły. Ostatni mocny akcent we wtorek zrobiłam wzorcowo, ale nogi były bardzo ciężkie. Pozostały 4 dni odpoczynku, na szczęście wystarczyło.
Relacja z Orlen Warsaw Marathon już niebawem!