Stadion lekkoatletyczny w Osuchowie, to moje największe biegowe odkrycie od 2016 roku! I choć zlokalizowany jest zaledwie 15 kilometrów od mojego domu rodzinnego, to dowiedziałam się, o tym miejscu zupełnie przez przypadek. Od kilku lat uwielbiam tu trenować i jestem tu nawet dość częstym gościem – mam nadzieję, że mile widzianym.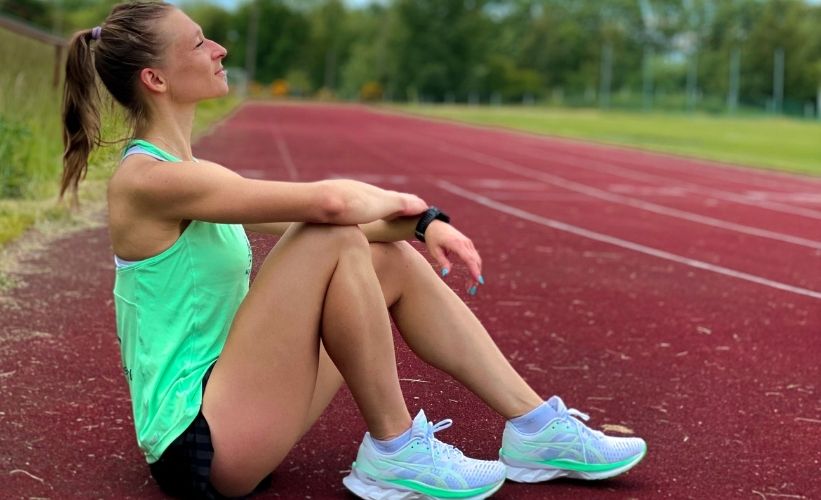 Nie znam dokładnie statusu tego stadionu, nie wiem czy przynależy do szkoły podstawowej czy po prostu do gminy Mszczonów i jest ogólnodostępny… Od osoby, która uświadomiła mnie o jego istnieniu, dowiedziałam się, że można z niego korzystać i trzymam się tej zasady od kilku lat. Jeszcze nikt mnie stamtąd nie wygonił, a brama wjazdowa zawsze jest otwarta. Czasami spotykam tam piłkarzy, którzy tartanem raczej nie są zainteresowani, więc nie wchodzimy sobie w drogę. Obym tylko nigdy nie dostała piłką w głowę, ale to ryzyko biorę już na klatę 😉  Po za tym może raz, albo dwa trafiłam na trening kilku lekkoatletów i to wszystko. Mieszkańcy chyba bardziej korzystają z boiska niż z samej bieżni – ale być może się mylę, bo nie ma mnie tam codziennie.
PS. Czasami ktoś jeździ tam rowerem i pakuje mi się w kadr :))
Bardzo żałuję, że ten cud infrastruktury nie pojawił się za czasów kiedy trenowałam lekką. Ale może to właśnie dlatego, tak bardzo doceniam to miejsce? I zachwycam się podczas każdej wizyty? 😉 Czasami podobne przemyślenia mam odnośnie sprzętu do biegania.. Jako nastolatka biegałam w jednych butach kilka sezonów, a teraz mogę zmieniać je w zależności od dnia tygodnia. Los bywa przewrotny, ale to temat na inny wpis.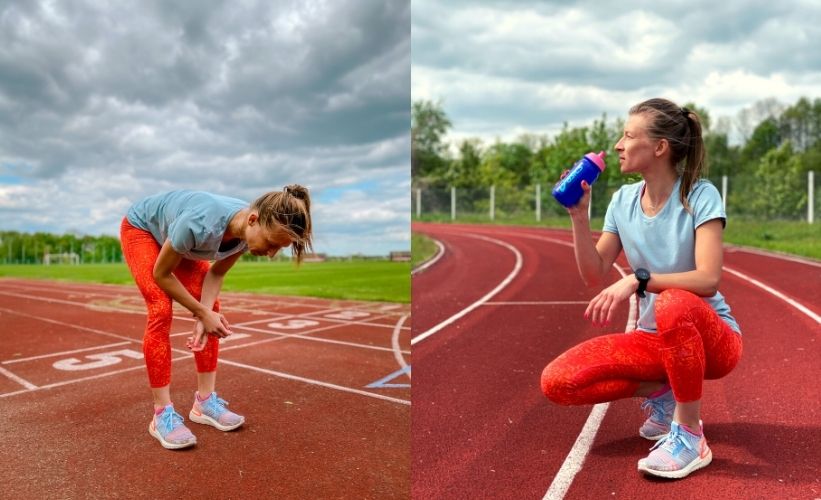 Co prawda, stadion nie jest zlokalizowany na kompletnym odludziu, ale czuć bliskość natury (patrz na pola rzepaku!). Chyba mało która wieś, może się cieszyć takim obiektem. Tartan nadal jest w świetnym stanie i nawet pierwszy tor nie jest zbytnio "wybiegany". Ten kto był na warszawskiej Agrykoli przed wymianą tartanu na pewno wie, co mam na myśli.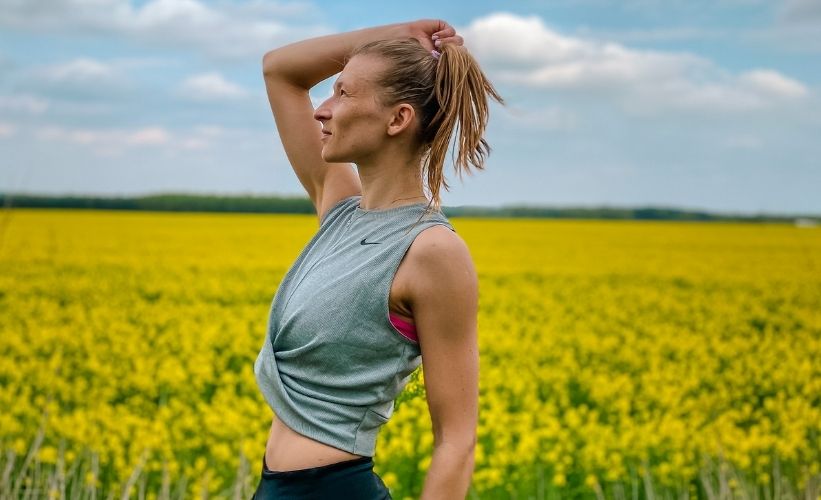 Uwielbiam to miejsce za ciszę, spokój i swego rodzaju prywatność. Ja wiem, że fajnie robi się trening w grupie, która bardzo motywuje, żeby dać z siebie więcej… ale specyfika tego miejsca jest dla mnie bardzo cenna.
To właśnie w tym miejscu odwaliłam kawał dobrej roboty przed złamaniem 3 godzin w maratonie. Tu też szukam nowych bodźców w treningu, bawię się odcinkami, prędkością i trenuję wytrzymałość tempową. Bo według mnie trening na bieżni nie jest zarezerwowany tylko dla osób, które przygotowują się do konkretnego startu, choć to bardzo ważny aspekt. Ja mimo tego, że w ostatnim czasie nie miałam konkretnego celu startowego, staram się różnicować swój trening i uciekam od monotonnego klepania kilometrów.
A czy wy macie takie miejsca, w których uwielbiacie trenować?
Dajcie znać!