Szakszuka to nic innego jak jajka w sosie pomidorowym z przyprawami i dodatkami. W mojej wersji pojawiła się marchewka i ziemniaki. Danie jest proste w wykonaniu, idealne na śniadanie, lunch i kolację.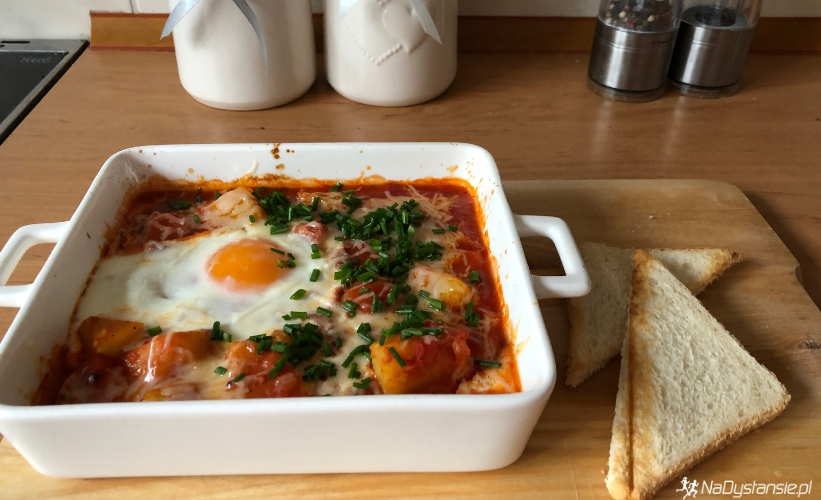 Szakszuka to dosłownie "wielki bałagan″. I taka jest w rzeczywistości. Każdy może stworzyć własną wersję tego dania – śmiało można zadziałać na zasadzie "co w lodówce, to na patelni". Przepisów szakszuki w internecie nie brakuje, ja polecam swoją wersję! Jeśli jesteś miłośnikiem ziemniaków, tak jak ja, to przepis idealny dla Ciebie!
Składniki na sos pomidorowy (dla 4 osób):
– 2 puszki pomidorów (krojonych)
– przecier pomidorowy (ilość według uznania)
– cebula
– 2 ząbki czosnku
– 2 średnie marchewki
– 1 papryczka chilli
– 1 papryka czerwona
– jajko (do jednej porcji)
– 6 średnich ziemniaków
– oliwa z oliwek
– sól, świeżo mielony pieprz
– oregano, kminek rzymski
Dodatki:
– parmezan
– szczypior
– pieczywo/chleb tostowy
Do przygotowania Szakszuki zainspirowała mnie podróż do Paryża – to właśnie tam spróbowałam tego dania po raz pierwszy!

Wykonanie:
Krok 1. Na patelni rozgrzać oliwę, następnie zeszklić pokrojoną w kosteczkę cebulę i czosnek. Dodać pokrojoną marchewkę, po chwili rozdrobnioną papryczkę chilli i czerwoną paprykę. Smażyć przez kilka minut. Całość zalać pomidorami z puszki. Dusić do momentu aż zredukuje się sok z pomidorów. Dodać przecier pomidorowy – ilość według uznania (sos nie może być zbyt rzadki).
Krok 2. Ziemniaki obrać, pokroić w kosteczkę i ugotować z niewielką ilością soli w oddzielnym garnku.
Krok 3. Do sosu pomidorowego dodać ugotowane ziemniaki. Danie doprawić solą, świeżo mielonym pieprzem, kminkiem rzymskim i oregano.
Prawie gotowe! 😉 Pozostaje dodać jedynie jajko.
Ja kolejny etap przygotowań przeniosłam do piekarnika. Ty możesz dokończyć danie na patelni. Podzieliłam sos na porcje dla jednej osoby, do pieczenia wykorzystałam naczynia żarodoporne, które były jednocześnie "talerzem" do podania Szakszuki.
Krok 4. Nagrzać  piekarnik do 180 st. Wstawić naczynie z sosem do piekarnika (podgrzać sos – jeśli jest zimny), wbić jedno jajko na porcję. Zapiekać przez 5 minut, następnie posypać startym na tarce parmezanem. Wstawić ponownie danie do piekarnika i piec do momentu aż zetnie się jajko (stopień ścięcia według uznania – nie każdy lubi lejące żółtko). Jajko można dodatkowo delikatnie posolić.
Krok 5. Przed podaniem posypać szczypiorkiem. Podawać z pieczywem (lub nie – jak kto chce!).
PS. Naczynia kupiłam w PEPCO

Smacznego!
UWAGA!
Szybko znika ;(