Każdy biegacz ma własne upodobania co do wyboru sprzętu, dostosowania treningu czy ulubionej diety. W tych kwestiach trudno narzucać komuś gotowe rozwiązania. W ciemno jednak mogę pokusić się o stwierdzenie, że w sporcie najważniejsze jest ZDROWIE i optymalizacja treningu. Obecnie mamy wiele narzędzi, z których możemy skorzystać chcąc zadbać o naszą dobrą kondycję. Profilaktyka jest niezwykle ważna, warto bacznie obserwować swój organizm i natychmiast reagować na niepokojące zmiany. Lepiej zapobiegać, niż leczyć!
Na wstępnie chciałabym zaznaczyć, że nie jest to wpis naukowy, a zawiera przede wszystkim nasze osobiste doświadczenia.
Będzie o WKŁADKACH ortopedycznych do butów biegowych!
Dlaczego zdecydowaliśmy się na wkładki?
Adi:
Niecałe dwa lata temu pojawił się u mnie ból w lewej stopie, doskwierający początkowo podczas biegania, później przy chodzeniu a nawet staniu. Z czasem dyskomfort był na tyle silny, że trudno było mi zrobić kilka kroków boso po podłodze w mieszkaniu, nie mówiąc już o bieganiu! Badanie stopy wykazało płaskostopie poprzeczne. W pierwszej kolejności skorzystałem z opinii ortopedy, który zalecił wykonanie wkładek. Wizyta u fizjoterapeuty potwierdziła diagnozę, dlatego zdecydowałem się na badanie przeprowadzone w Body Move Rehabilitacja, które ukazało wszystkie mankamenty moich stóp.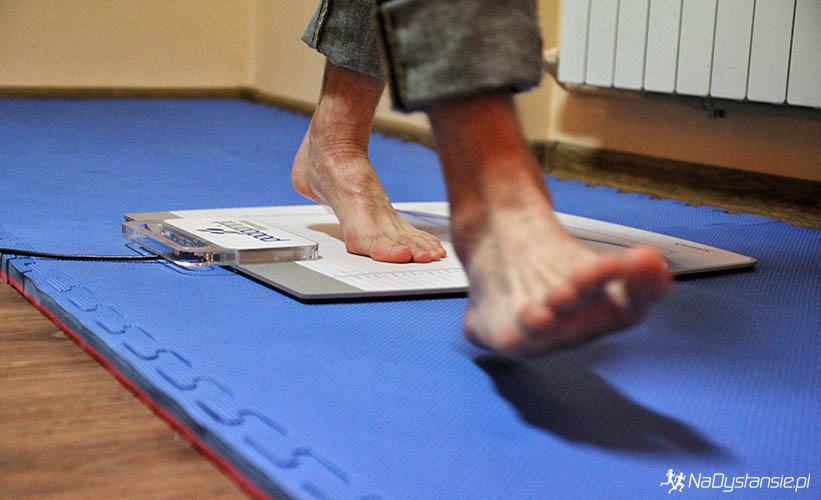 Aga:
Dyskomfort podczas treningów z powodu odczuwalnego bólu w lewej stopie. Zmiana techniki biegu, przechylenie sylwetki na prawą stronę. Krótko mówiąc problemy z lewą stopą, które przerodziły się z kolei w kłucie w prawym kolanie, od zewnętrznej strony . Dokładniej, według opinii ortopedy, zapadająca się kość w śródstopiu i koślawienie stopy w momencie kontaktu z podłożem. W konsekwencji zmagałam się przez okres 3-4 miesięcy z kontuzją, która wykluczyła mnie z treningów biegowych (od czerwca do września 2016 roku).
Dla dopełnienia sytuacji zaznaczam, że w mojej opinii wykonane wkładki w Body Move Rehabilitacja znacząco mi pomogły! Nie mówię, że wkładki uchronią mnie przed każdą kontuzją, ale osobiście biega mi się w nich doskonale.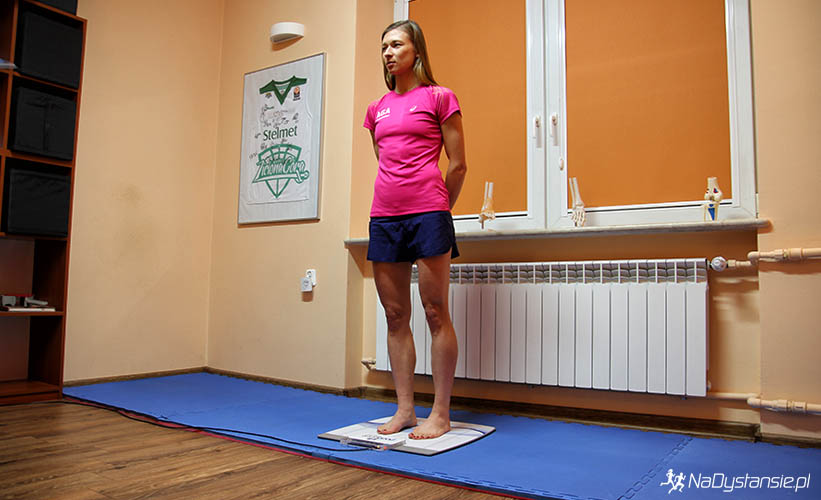 Co dało Nam bieganie we wkładkach?
Od momentu biegania we wkładkach (ok. dwóch lat) nie dokuczają Nam problemy ze stopami;
Wkładki zwiększają amortyzację i poprawiają komfort biegania;
W naszej ocenie mają wpływ na ochronę przed ewentualnymi kontuzjami wynikającymi z pewnych nabytych dysfunkcji;
W porównaniu badania komputerowego stopy z 2016 roku do badania w 2017, widać znaczącą różnicę w ustawieniu stopy podczas kontaktu z podłożem (chodzi o miejsca nacisku na podłoże);
Poprawa techniki biegu, zwiększenie dynamiki (nie przechylam się już na prawą stronę), Adi nie odczuwa bólu w stopie;
Wkładki wymusiły u Nas nowe nawyki w ustawieniu stopy podczas ruchu, czego efektem jest brak pogłębiania dysfunkcji z którymi się zgłosiliśmy na pierwszej wizycie.
Co ciekawe próba biegania bez wkładek (w moim przypadku – Aga), kończy się zazwyczaj powrotem bólu zapadającej się kości w lewej stopie.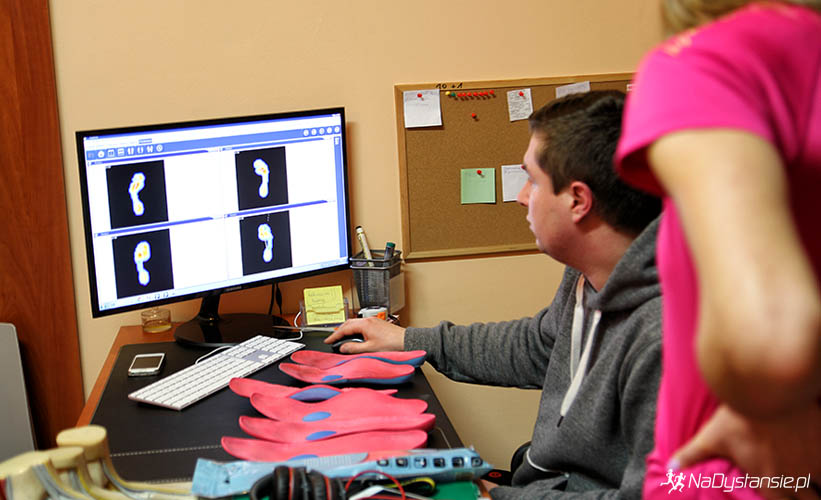 Jak wygląda proces wyrobienia wkładek?
Pierwszą rzeczą z jaką się spotkacie to wywiad lekarski, przeprowadzony przez fizjoterapeutę;
Kolejnym krokiem jest komputerowe badanie stóp, zarówno podczas stania jak i chodzenia;
Szczegółowa analiza wyników;
Wybór najlepszego rodzaju wkładek oraz ich indywidualne dopasowanie do stopy;
Modelowanie wkładek Formthotics metodą termoplastyczną;
Przymiarka wkładek do butów biegowych.
Cała wizyta trwa ok 30 – 40 minut.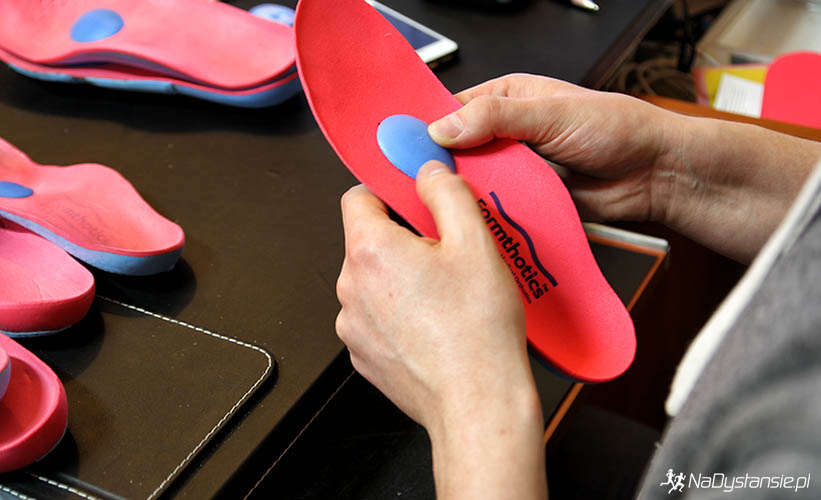 Jak się biega we wkładkach ortopedycznych?
Na początku stopa musi się do nich przyzwyczaić. Warto przetestować je podczas truchtu lub krótkiego wybiegania max do 5 km. W naszych wkładkach, z racji płaskostopia poprzecznego, pojawiły się wypustki, które początkowo stopa traktowała jak intruza. Według zaleceń, bieganie w świeżych wkładkach, trzeba na początku dozować i przyzwyczaić organizm do nowego.
Wkładki przez cały czas pracują razem ze stopą, na zużytych egzemplarzach wyraźnie widać odciśnięte ślady pięty i palców. Podobnie jak buty, tak i wkładki ubijają się wraz z każdym przebiegniętym kilometrem. Raz na kilka miesięcy (3-4 miesiące) warto odwiedzić Body Move, żeby sprawdzić stan wkładek i ewentualnie przemodelować je w oparciu o aktualne badanie stóp. Podczas takiej serwisowej wizyty może okazać się, że zostaną wymienione zużyte elementy Naszych wkładek, co w efekcie przedłuży ich żywotność.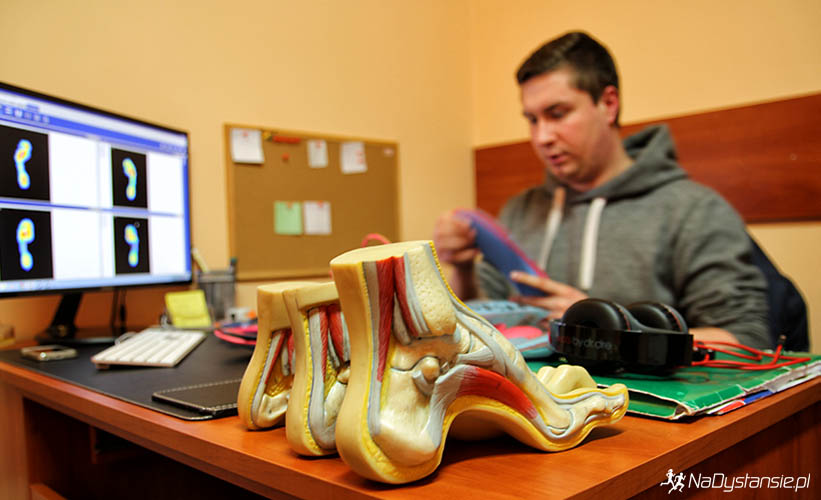 Czy wkładki pasują do każdego modelu buta?
W naszym przypadku tak, dotychczas nie mieliśmy problemu z podmianą oryginalnych wkładek na te, które są idealnie stworzone do naszego profilu stopy. Należy jedynie pamiętać, aby długość (w centymetrach) oryginalnej wkładki była taka sama jak wkładki ortopedycznej.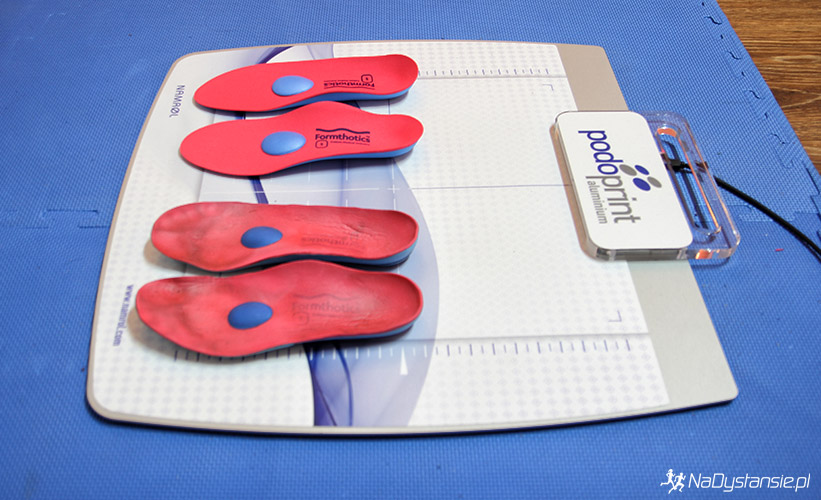 Jak często trzeba wyrabiać nowe wkładki?
Zasada jest podobna jak przy wymianie butów biegowych, wszystko zależy od indywidualnych odczuć i wpływu wielu czynników (m.in.: waga, rodzaj obuwia, kilometraż, serwisowanie). Dla nas najbardziej miarodajnym będzie ilość przebiegniętych kilometrów, choć i tu dla różnych osób wartości mogą być zmienne. Dla przykładu Adi w przeciągu 17 miesięcy i przebiegniętych ok. 4800 km zużył 2 pary wkładek. Od początku 2017 roku zaczął biegać w kolejnych, trzecich już wkładkach Formthotics i do tej pory przebiegł w nich ok. 1400 km, więc niebawem udamy się do serwisu, żeby zbadać ich stan.
Możemy założyć, że przy Naszym intensywnym bieganiu wkładki wystarczają na przebiegnięcie ok. 2000 km, co jednocześnie przekłada się okres 6-7 miesięcy.
Czy wkładki są konieczne?
Zdania są podzielone, Nam wkładki znacząco poprawiły komfort biegania. To sprawa indywidualna. Warto jednak sprawdzić co w trawie piszczy i pokusić się choćby o badanie stóp. Wyniki przeprowadzonej analizy mogą zawczasu pomóc w profilaktyce "zdrowej stopy". Poza tym warto kontrolować wszelkie zmiany, zwłaszcza jeśli objętościowo bardzo dużo biegamy. Powtarzalny ruch podczas spokojnych wybiegań sprawia, że nasze stopy mogą się zniekształcić (choć nie muszą!). Efektem intensywnych treningów mogą być różnego rodzaje dysfunkcję stóp i warto nad nimi popracować.
Jest wielu biegaczy, których podziwiamy nie tylko za doskonałe wyniki, ale także za doskonałą technikę biegu. Czasem jedno i drugie wcale nie musi iść w parze, ale warto zadbać o szczegóły, które mają wpływ na ekonomikę i komfort naszego biegu.