Czy lubisz ból?
To pytanie wprawiło mnie w konsternację. Potrzebowałam chwili, żeby się zastanowić i odpowiedzieć przede wszystkim samej sobie. "Nie lubię bólu, bo kto lubi? Ja po prostu lubię się zmęczyć". Jakoś głupio powiedzieć, "tak lubię ból", no bo jak to w ogóle brzmi?
"Musisz polubić ból, żeby pójść o krok do przodu" – usłyszałam.
Nie chodzi tu o masochizm i zadawanie sobie cierpienia. Tu mowa o wyjściu poza tzw. strefę komfortu, czyli krótko mówiąc podjęcie wysiłku, który nie należy do przyjemnych. Prawda jest taka, że każdy z Nas dochodzi do momentu kiedy przekroczenie kolejnych barier jest coraz trudniejsze. Czasy jakie osiągamy na danym dystansie łatwo jest poprawiać na początku biegowej przygody, ale im dalej w las tym coraz trudniej. Nie wystarczy po prostu biegać, trzeba zastanowić się nad nowymi bodźcami. Poza tym, jestem świadoma, że postępy też będą mniejsze, za to równie wartościowe.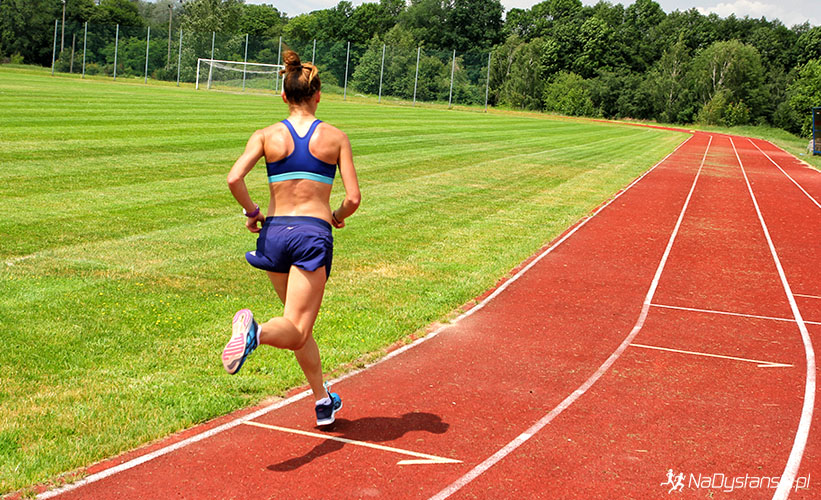 Plusem zdobytego biegowego doświadczenia jest fakt, że im dłużej trenujemy, tym lepiej znamy swój organizm. Jesteśmy bardziej obyci z tematem. Mamy też większą świadomość, jak dużo pracy musimy włożyć, żeby osiągnąć założony cel. Dlatego tak trudno, te nowe cele wyznaczać. Poza tym jesteśmy w stanie określić co nam służy, w czym jesteśmy dobrzy, a nad czym powinniśmy szczególnie popracować. To wcale nie jest taka łatwa sztuka. Wiadomo, że oprócz biegania, warto poświęcić czas na ćwiczenia ogólnorozwojowe i wzmacniające, ale jednak to podczas biegu musimy najbardziej się przełamać.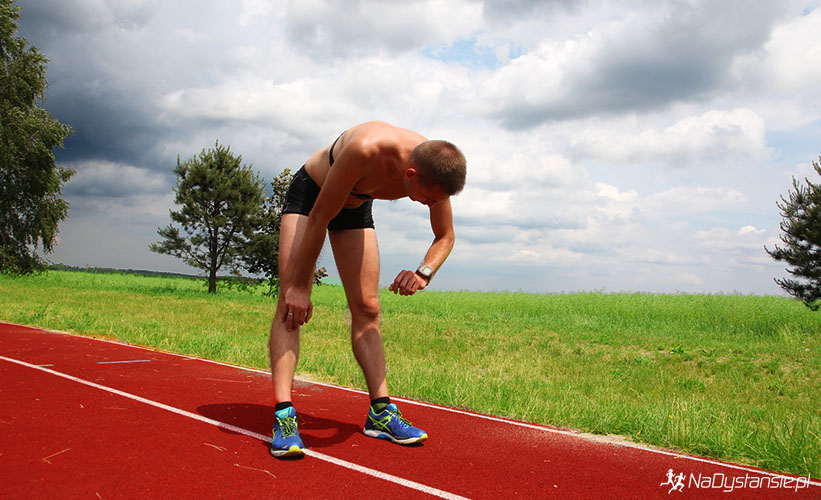 Trzeba dodać gazu!
Za każdym razem kiedy wchodzę na wyższe obroty, a puls przekracza 180, wiem że strefa komfortu została przekroczona. Kiedy oddech wariuje, a nogi odmawiają posłuszeństwa, staram się zaprzyjaźnić z bólem, nie zawsze mi to wychodzi. Jak tylko głowa wytrzyma i uda się skończyć trening, oswajam się z tym bólem i mam nadzieję, że powoli przesuwam tę magiczną granicę swoich możliwości. W końcu nasza kondycja zależy od tego jak często i intensywnie trenujemy!
Dla własnej mobilizacji, tłumaczę sobie, że talent to nie wszystko. Liczy się determinacja, wiara w siebie i odpowiedni plan na trening, który ma za zadanie kształtowanie moich umiejętności. Sport jest niezwykle wciągający, dlatego mogę pokusić się o stwierdzenie, że można ten ból choć trochę polubić. Jest jeden warunek! Trzeba uwierzyć w siebie, zdobyć siłę która pozwoli walczyć, mimo strachu jaki czujemy.
Jestem z siebie dumna kiedy przełamuje swoje słabości i zła kiedy nie daje rady.
"Wiecie co według mnie jest fajniejsze od wychodzenie ze swojej strefy komfortu? Rozszerzanie jej."
cyt.: Andrzej Tucholski.
Trenuje dalej, bo cel napędza mnie do działania!