TAK! My je uwielbiamy, a nakarmione przez Nas osoby zawsze wołały o dokładkę.
Zadowolony gość to dla Nas najlepsza rekomendacja! UWAGA mięsożerni, nie bójcie się wegańskich potraw, a przynajmniej spróbujcie, dajcie im szansę za nim skrytykujecie i powiecie, że bez mięsa to bez sensu. Można spokojnie wciągnąć dwa burgery, bez poczucia ciężkości i wyrzutów sumienia typu "znowu się obżarłem".
To idealna nagroda po solidnym treningu, ale też dobry pomysł na wieczorne spotkanie ze znajomymi przy winie.
Samo zdrowie!
Łapcie przepis, róbcie zakupy i do dzieła!
Kotleciki przygotowane są na bazie zielonej soczewicy, a to doskonałe źródło: białka, potasu i kwasu foliowego. Soczewica może być doskonałą alternatywą białka pochodzącego z mięsa. Uwaga! Jest to jednak białko niepełnowartościowe (nie zawiera wszystkich niezbędnych aminokwasów), czyli warto połączyć (w jednym posiłku) soczewicę z produktami, które mają tych brakujących aminokwasów pod dostatkiem np. produkty zbożowe – w naszym przypadku będą to np. płatki owsiane. "Wynika to z tego, że warzywa strączkowe mają mało metioniny, ale sporo lizyny i tryptofanu – natomiast zboża odwrotnie i dzięki temu dobrze się uzupełniają, dając nam tym samym pełnowartościowe białko." Źródło: www.damianparol.com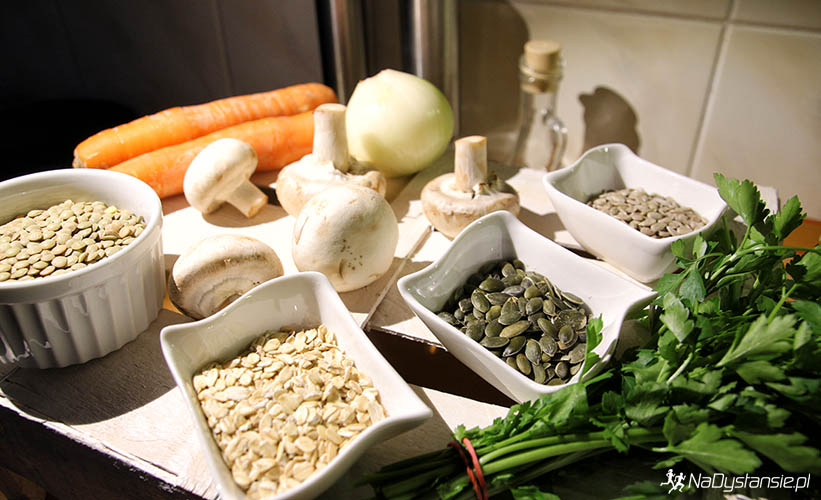 Składniki na kotleciki (na 4 osoby):
Zielona soczewica – 1 szklanka;
Pieczarki – 300g;
Cebula – 1 szt.;
Marchewka – 2-3 szt.;
Płatki owsiane – w zależności od kleistości masy, ok. 2-3 łyżki;
Nasiona słonecznika – garść;
Pestki z dyni – garść;
Natka pietruszki – pęczek;
Sól i pieprz do smaku;
Sos sojowy – 1-2 łyżki;
Oliwa – do smażenia;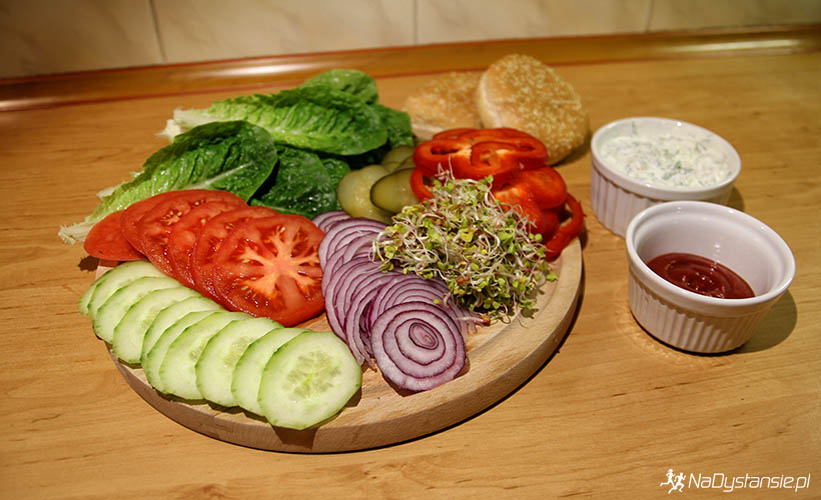 Dodatki (ilość według potrzeby):
Bułka do burgerów / tortilla – opcja lżejsza;
Pomidor;
Ogórek zielony;
Ogórek kwaszony;
Czerwona cebula;
Papryka;
Kiełki np. lucerny;
Sałata;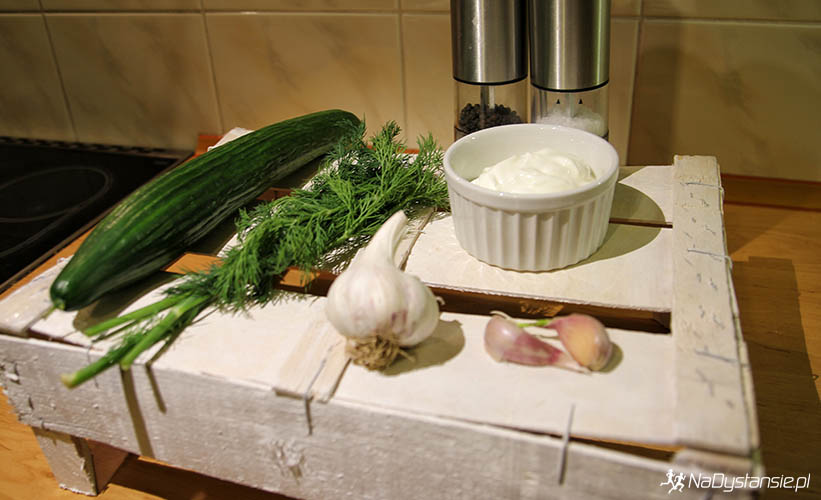 Sos:
Jogurt naturalny np. typu greckiego (sojowy, jeśli chcemy utrzymać potrawę w formie wegańskiej);
Koper;
Ogórek świeży;
Sok z cytryny (brakuje na zdjęciu);
Czosnek – 1-2 ząbki;
Sól, pieprz do smaku;
Wykonanie farszu
Soczewicę ugotować wg wskazówek na opakowaniu – najlepiej bez soli, żeby nie utracić białka podczas obróbki termicznej, farsz będziemy przyprawiać później. Po ugotowaniu odsączyć na durszlaku. Odstawić.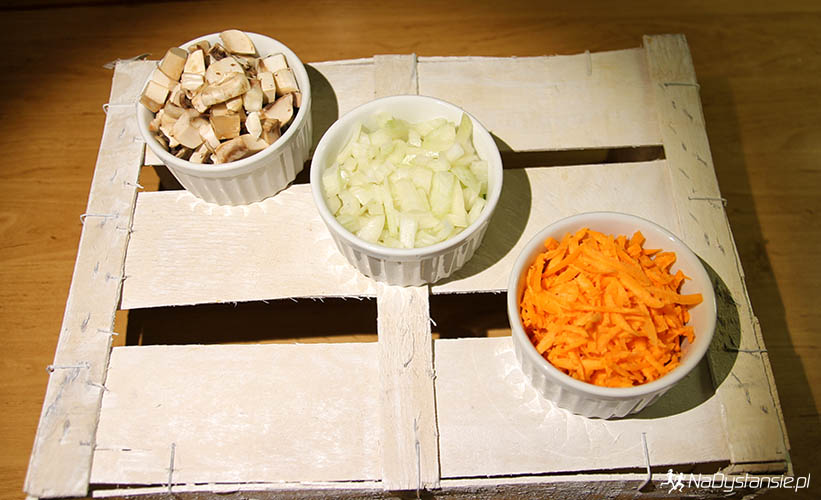 Na patelni rozgrzać oliwę, zeszklić pokrojoną w kostkę cebulę. Następnie dodać marchewkę startą wcześniej na grubych oczkach. Po 2-3 min. dodać pokrojone w kosteczkę pieczarki. Warzywa dusimy do miękkości.
Płatki owsiane zmielić – będą one pełnić funkcję jajka i skleją farsz.
Natkę z pietruszki pokroić.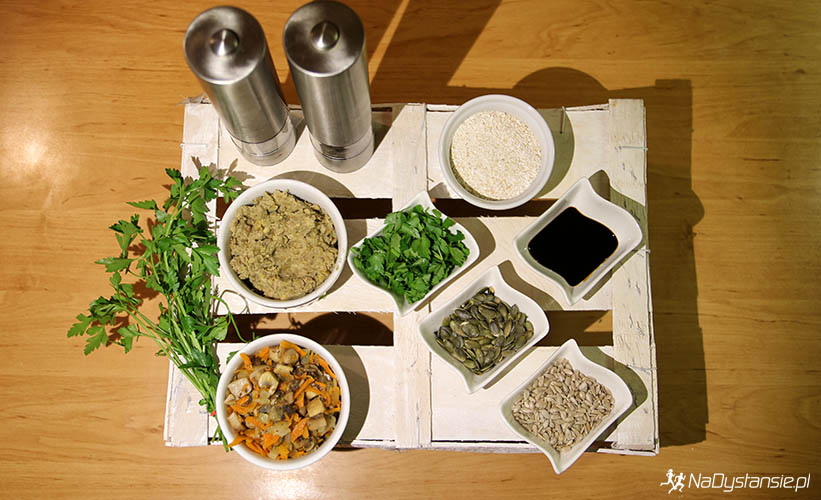 Samą soczewicę lekko zblędować, następnie dodać warzywa z patelni. Doprawić sosem sojowym, solą i świeżo mielonym pieprzem. Wszystko dokładnie wymieszać. Na końcu dodać natkę z pietruszki, nasiona słonecznika i pestki z dyni.
Z powstałego farszu uformować kotleciki. Ułożyć na blaszce i piec w piekarniku po ok. 15min. na każdą stronę w 150oC.
W między czasie przygotować wszystkie dodatki, oraz sos – to tylko propozycja.
Wykonanie sosu
Do jogurtu dodać pokrojony koper, starty na dużych oczkach ogórek (odsączyć wodę!), rozgnieciony czosnek. Doprawić solą, świeżo mielonym pieprzem i sokiem z cytryny.
Na 3-4 min. przed wyjęciem "kotlecików" warto wrzucić do piekarnika rozkrojoną bułkę, tak żeby była ciepła.
Przy stole można się już samemu pobawić i skomponować burgera na jakiego mamy tylko ochotę. Ilość dodatków jest nieograniczona byle udało Wam się potem to ugryźć J
Smacznego!
P.S. Polecamy zaopatrzyć się w serwetki