Na początku trzeba sobie odpowiedzieć na jedno bardzo ważne pytanie. Co to w ogóle jest okres przygotowawczy i czy wiemy co pod tym hasłem tak naprawdę się kryje. To z pewnością nie jest tylko przezimowanie i bieganie w nieco gorszych warunkach niż zwykle. Dla Nas to ciężka harówka, która zbliża Nas do postawionego wcześniej konkretnego celu. Obciążenia treningowe stopniowo zwiększają się, a my skupiamy się głownie na budowaniu tzw. bazy, siły biegowej i wytrzymałości specjalnej.
Nie oszukujmy się, bez odpowiedniego przygotowania i planu działania nie możemy mówić ani o okresie przygotowawczym, ani o starcie docelowym, ani tym bardziej o roztrenowaniu, no bo niby po czym? Całoroczne bieganie od czasu do czasu, w jednostajnym tempie to według mnie kiepski trening. To bardzo dobry sposób na poprawę kondycji i samopoczucia, ale na pewno nie sposób na poprawę wyników na danym dystansie.
Mimo wysiłku jaki wkładamy codziennie w treningi, czasami zastanawiamy się czy faktycznie trenujemy tak na serio?! Bo tego, że nie biegamy tylko po to, żeby biegać jesteśmy pewni! Od razu podkreślamy, że w bieganiu dla samej idei, dobrego samopoczucia i sposobu spędzenia wolnego czasu nie ma nic złego. Wręcz przeciwnie, to się jak najbardziej chwali. Nie każdy biega za wynikiem.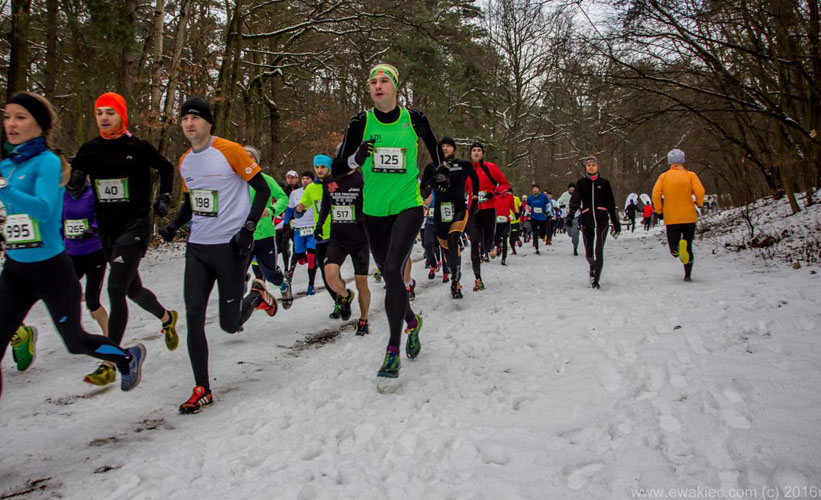 Często słyszy się opinie, że trenować powinno się w ciszy, a chwalić dopiero sukcesami. I jak tu wobec tego pogodzić to bieganie za kurtyną, którego nikt nie widzi i startem w biegu, po którym każdy zna Twój wynik i osiągnięty czas na danym dystansie?
Wydaje Nam się, że podejście biegaczy amatorów do udziału w zorganizowanych biegach można podzielić na 3 grupy:
Osoby, które biegają tylko i wyłącznie dla przyjemności i traktują ten czas wyłącznie jako dobrą zabawę, a przy tym nie mają żadnego planu treningowego ani długoterminowego celu,
Osoby, które mają konkretny cel, ale ich plan treningowy nie przewiduje startów w innych zawodach, Ci biegacze trenują w ciszy i spokoju, bez ścigania się i porównywania wyników z innymi.
Osoby, które maja konkretny cel i wplatają do swojego planu udział w zawodach jako przemyślaną jednostkę treningową.
My należymy do trzeciej grupy, ale każdy udział w zawodach konsultujemy z trenerem i odpowiednio wplatamy w plan treningowy.
Jest to dla Nas idealna jednostka treningowa, np. cykl biegów górskich w Falenicy,
Udział w zawodach możemy potraktować jako sprawdzian, np. City Trail
Osiągnięty rezultat daje obraz na jakim etapie przygotowań aktualnie jesteśmy, na czym warto skupić się w kolejnych treningach,
Takie zawody są często naszymi krótkoterminowymi celami, które zbliżają Nas do startu docelowego,
Bieganie na zawodach mobilizuje do szybszego tempa, którego sami na treningu moglibyśmy nie utrzymać,
To idealny moment na naukę odpowiedniej taktyki podczas biegu, która najlepiej sprawdzi się w naszym przypadku na biegu docelowym,
Na zawodach uczymy się biegania w różnych warunkach atmosferycznych, nie przeczekamy przecież deszczu i nie przełożymy startu na kolejny dzień,
Udział w zawodach uczy Nas radzenia sobie ze stresem przedstartowym – choć podwyższony poziom adrenaliny chyba nigdy nie będzie do opanowania,
Nabieramy wprawy co do samej organizacji i przygotowań związanym przed startem, wiemy co i jak po kolei robić, żeby na samym starcie nie zarzucać sobie, że o czymś zapomnieliśmy,
Sprawdzamy w czym biega Nam się najlepiej, np. idealne buty, strój startowy – to z pewnością warto przetestować,
Testujemy kiedy nasz organizm jest najbardziej wydajny, czy warto zrobić lekki rozruch dzień przed startem czy może zupełnie odpuścić sobie trening,
Warto chyba też dodać, że lubimy rywalizację, która jednocześnie motywuje Nas do codziennych treningów.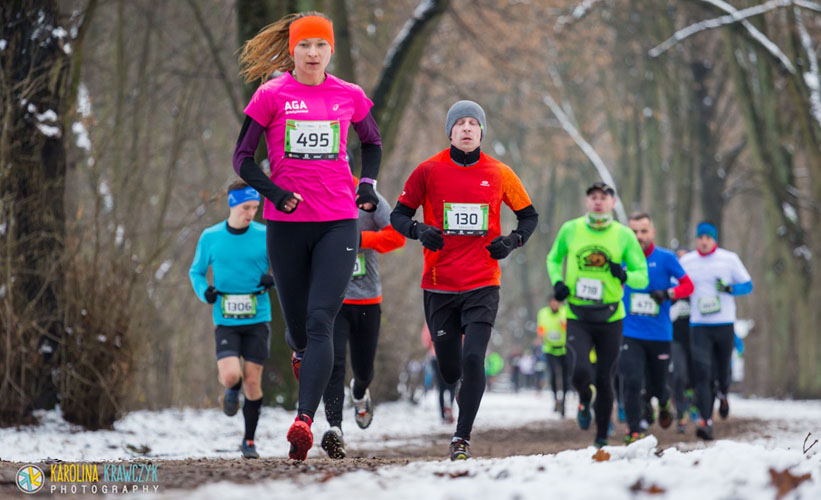 Poza wyżej wymienionymi punktami, udział w zawodach daje Nam też mnóstwo pozytywnych emocji. Mamy szansę spotkać się ze znajomymi, wymienić poglądy dotyczące treningów, poznać niektórych biegaczy osobiście. Zbieramy nowe doświadczenia, odkrywamy nowe miejsca do biegania. Poniekąd też bawimy się sportem, ale zawsze ścigamy się na serio!