To był wieczór pełen emocji, tym razem nie biegliśmy tylko dla siebie ale dla Was! Rola pacemakera jest bardzo odpowiedzialna, ale niesie ze sobą masę pozytywnych emocji. Poczucie odpowiedzialności skłoniło nas jednak do przygotowania się przed tym biegiem w szczególny sposób.
Przygotowanie pacemakera
Jeszcze w domu sprawdziliśmy dokładnie trasę, gdzie znajdują się punkty odżywcze i co najważniejsze, jaki czas powinniśmy uzyskać na danym etapie biegu. Staraliśmy się na bieżąco informować biegaczy ile sekund mamy zapasu i zachęcaliśmy do regularnego nawadniania się – gdyby w ferworze walki o tym zapomnieli.
Zbiórka wszystkich pacemakerów zaplanowana była na godz. 19:30, wtedy też mieliśmy odebrać dodatkowe pakiety na bieg. Trochę szkoda, że koszulkę, czapeczkę, spodenki i skarpetki dostaliśmy w ostatniej chwili. Na godzinę przed biegiem trudno mówić o sprawdzeniu sprzętu. Na szczęście jedynym mankamentem były wszyte metki, które trudno było oderwać bez użycia nożyczek. Z całego wyposażenia chyba i tak, na szczególną uwagę zasłużyły przede wszystkim BALONY! Nie bez powodu używam tu wielkich drukowanych liter, one były ogromne! Co prawda robiły niesamowite wrażenie, nie tylko ze względu na gabaryty, ale też na zamontowane w środku światła ledowe, to w biegu nie były już takie zgrabne 😛
Po wspólnej focie, każdy "zajączek" popędził w swoją stronę. Adi już na rozgrzewce niefortunnie stracił swojego "balonika", ten w mgnieniu oka poszybował w czarną otchłań… Na próżno próbowaliśmy rzucić się za nim w pościg 😀 Nie pozostało nam nic innego jak popędzić do biura informacji po kolejnego. Musicie wiedzieć, że wcale nie było łatwo przebrnąć przez tłumy biegaczy z balonem, nad którym nie mieliśmy do końca kontroli. Na kilka minut przed startem w końcu udało się dotrzeć do strefy na 1:45.
Strategia
Bardzo cieszyło nas Wasze zainteresowanie, dopytywaliście jaką mamy taktykę. Stwierdziliśmy, że będziemy biec równym tempem, oczywiście nie licząc pierwszego kilometra. Trudno było rozpędzić się w tłumie zawodników, którzy powoli zaczynali przechodzić z chodu w trucht, by potem w końcu zacząć biec w swoim rytmie. Oboje z Adim już trochę odzwyczailiśmy się startować w takim zatorze, z reguły ustawiamy się w pierwszej strefie, bo i tempo biegu mamy zupełnie inne.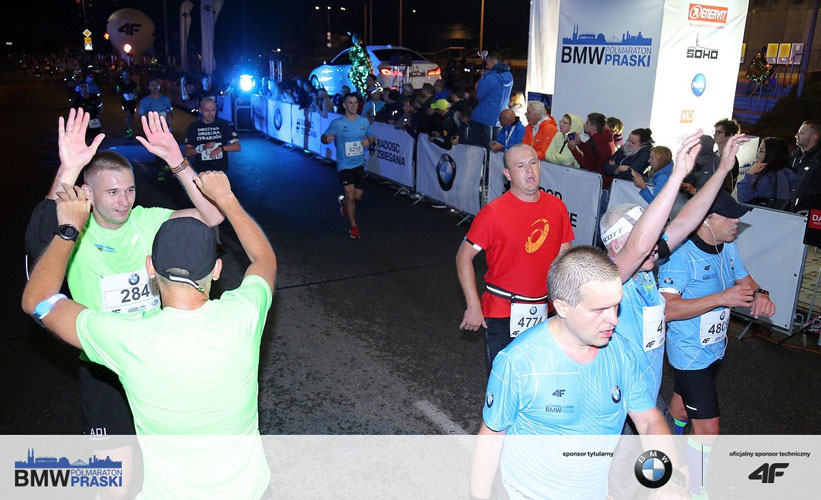 Rola pacemakera
Dla nas tempo w okolicach 5:00, było bardzo komfortowe, ale właśnie o to chodzi! To my, jako pacemakerzy mamy mieć siłę, żeby dopingować innych biegaczy i wspierać na trasie. Za to biegacze, mają mieć spokojną głowę, że jeśli ruszyli razem z balonikami na konkretny czas, to na mecie osiągną założony cel!
Adi przez cały bieg był głosem rozsądku, mi momentami noga lekko szła do przodu i musiałam kontrolować tempo zwłaszcza, jak się z kimś zagadałam! Osobiście jestem pod wrażenie, że pozwalaliście sobie na pogaduchy, ja biegnąc na czas milczę jak grób 😀
Z całej grupy zająców na 1:45 (4 osoby), tylko mi udało się dobiec do mety z balonikiem, reszta poszybowała w świat. Przez to nie mogłam sobie pozwolić na rwane tempo, za to Adi mógł trochę sprawniej pobiegać slalomem między Wami. Średnio co 5-10 sekund regularnie obrywałam balonem w głowę, momentami sznurek zapętlał mi się na szyi, bywało że i innym się dostało, ale nikomu bym go nie oddała

Pogoda do biegania była rewelacyjna, niemal nieodczuwalny wiatr, idealna temperatura i świetny odbiór biegania nocą. Nam się bardzo podobało! Mamy nadzieję, że Wy macie podobne odczucia. Dla Was staraliśmy się pobudzić do hałasu kibiców, których mimo późnej pory trochę było.
Miło było obserwować biegaczy i ich ducha walki, szczególnie na ostatnich kilometrach. Nieustanie zachęcaliśmy Was do szybkiego finiszu i trzeba przyznać, że na ostatniej prostej dostawaliście skrzydeł! Mamy nadzieję, że przysłużyliśmy się choć do jednej życiówki!
DUMA rozpiera, kiedy po przekroczeniu mety, ktoś podchodzi i dziękuję nam za pomoc.
My dziękujemy Wam za owocną współpracę i zaufanie!
Do zobaczenia na biegowych ścieżkach, może uda nam się pobiegać razem za rok!